---
mail・profile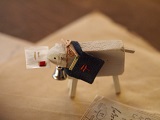 ---


English○ Japanese●



Here's your letter ⇒






Profile



hitsujinoniwa
(Sheep's Garden)


Kyoko Toji



From Osaka Prefecture

It is now created in Matsumoto City, Nagano Prefecture.




When I went to France,

I met a doll from an antique tree.

drawn to the old atmosphere

I wanted to make something out of wood.

The first one I made was a sheep object.

We started building it in 2002.

On December 2019, we have 8,000 sheep.

while the inhabitants of the Sheep's Gardens,

Goats, rabbits, and foxes were added.


I will continue to use trees. I'm going to make more and more.

So in the 18th year of the Sheep's Garden.

Thank you in advance.




home
top